To know Christ is to serve others without cost as Mary of Bethany and St. Francis of Assisi did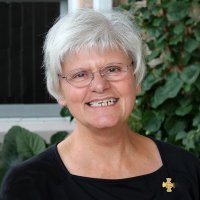 by Sister Laura Zelten
In today's Gospel from St. John, we hear of Mary of Bethany anointing the feet of Jesus with expensive aromatic nard, or essential oil, and drying his feet with her hair. The aromatic nard would cost one almost a year's wages during the time of Jesus. Mary showered her love for Jesus without cost. She had come to know that he was the One to come.
As we continue our Holy Week through a Franciscan perspective, the story of St. Francis of Assisi and the leper comes to mind. One day before his conversion, St. Francis was riding his horse alone in the countryside. As he moved along the road, he caught sight of a man with leprosy walking toward him. Francis' instinct was to turn back or move to the side to avoid contact with the leper, but instead Francis rode directly toward the man who was missing parts of his hands and face because of the disease. Francis dismounted his horse and warmly embraced and kissed the leper. Francis wrapped his cloak around the man and got back on his horse. Glancing back at the leper, Francis saw the man had disappeared. He realized he had embraced Christ.
Both Mary of Bethany and St. Francis had come to know Christ through the gift of extravagant love. Both embraced Christ with hearts full of love.
As this Easter season comes upon us, may we focus our thoughts and hearts like Mary and Francis. Let us show our love and gratitude to Jesus by serving others. Because of social distancing we may not physically serve others, yet we can bring them to prayer. During these days of Holy Week let us set aside time each day to pray and ponder the events leading up to the resurrection of Christ.