Our Leadership Team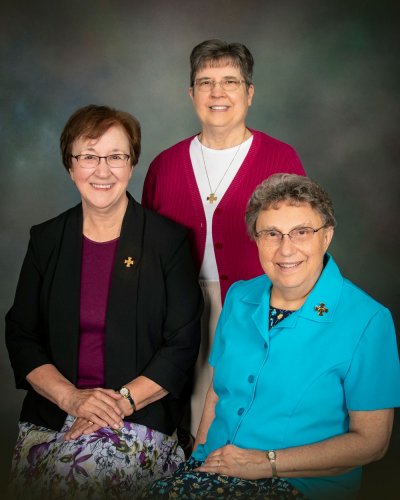 Sister Rose Jochmann (right) served our Sisters for nearly 30 years as Community Treasurer prior to her election to the current Leadership Team. She was also instrumental in leading the Community as it selected a form of renewable energy which culminated in a 210-kilowatt solar photovoltaic system, first installed in 2014 then expanded in 2019. Sister Rose holds a bachelor's degree in education and a master's in administration. She has served as a teacher and principal.
Sister Jane Riha (left) has a bachelor's degree from Marquette University and a master's degree from Cardinal Stritch University, both in Milwaukee, and a master's in educational administration from Boston College. Her ministries have been varied and diverse including elementary school teacher, principal, consultant in the Education Department for the Diocese of Green Bay, coordinator of Hispanic pastoral ministry in the Fox Valley, parish director/pastoral leader, and coordinator of Hispanic ministry formation in the Ministry Formation Department of the Diocese of Green Bay.
Sister Mary Kabat (center) has served her Community as the Director of Development since 2003. She has been blessed to come to know so many family members, former students and co-workers and friends of the Sisters. Previously she served 25 years as a teacher and principal in the Diocese of Green Bay. It was her joy to create a learning environment in which children felt happy, respected and could learn to their full potential. Sister Mary earned her bachelor's degree from St. Norbert College and her master's in educational administration form Boston College.