Support Our Mission and Sisters
Companions on the journey: Our path together is filled with mutual support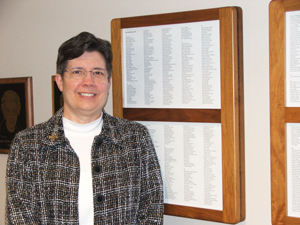 Dear Friend,
As I prepare this report I am again in awe that we have been remembered and blessed by so many persons like YOU! Each one of you has a story of how you know us - who has touched your life, who has been your teacher, who has been there for you at a time of need, who has brought joy to your school or parish, who is/has been a part of your family.
As I stated in my message in our Advent Newsletter, we are no longer at a stage in life when we can set aside earnings or gifts for our future. We only have a few Sisters in earning ministries. People like YOU are making it possible for us to care for our Sisters and pay those bills that life brings our way. And we are so very grateful!
Know that YOU are ever in our thoughts and prayers. God bless you abundantly!
Sister Mary Kabat
Development Director
January 2020
P.S. -- To make a gift, simply visit our Donate Today page. You can print the form and send it with your check or you can follow the link that leads to our secure credit card giving page. Also please consider us in your estate planning. You have our thanks and prayers.
---
Planning for Your and Our Future
The Sisters of St. Francis of the Holy Cross are a not-for profit 501c(3) corporation. We are recognized by the IRS as a charitable organization. Any donations made to us are tax deductible. Our corporate title for legal documents is SISTERS OF ST. FRANCIS OF THE HOLY CROSS. Our development office adheres to the guidelines of the National Catholic Development Conference. View our Annual Development Report and read the latest message from our Leadership Team.