Support Our Mission and Sisters
Your generosity made a difference in our daily lives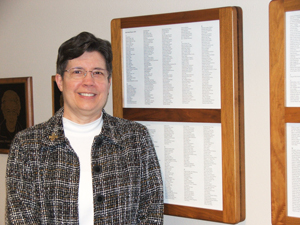 Dear Friend,
We can not thank you enough for your friendship and your help for our needs this past year. We certainly know we are very blessed.
As the years go by, we have more Sisters transitioning into retirement and volunteering in many ways. With our earnings lessening we are only able to cover about half of our living expenses. But thanks to friends like you we were able to pay all our bills again this year.
With the gifts designated for our "greatest need" we were able to replace the pavement in our section of Holy Cross cemetery, upgrade the nurse call system for our retired Sisters, seal the driveway and parking lot pavement at the Motherhouse and upgrade the network server for our administrative and Motherhouse computers. We also replaced the flooring in one of our two Green Bay homes where our Sisters live.
THANK YOU for being so generous to us. THANK YOU if you have been a donor for years or if you reached out to us this year with your first gift. You have the gratitude and prayers of all the Sisters. God bless you and your loved ones in every way.
Sister Mary Kabat
Development Director
P.S. -- To make a gift, simply visit our Donate Today page. You can print the form and send it with your check or you can follow the link that leads to our secure credit card giving page. Also please consider us in your estate planning. You have our thanks and prayers.
---
Planning for Your and Our Future
The Sisters of St. Francis of the Holy Cross are a not-for profit 501c(3) corporation. We are recognized by the IRS as a charitable organization. Any donations made to us are tax deductible. Our corporate title for legal documents is SISTERS OF ST. FRANCIS OF THE HOLY CROSS. Our development office adheres to the guidelines of the National Catholic Development Conference. View our Annual Development Report and read the latest message from our Leadership Team.