Support Our Mission and Sisters
So much is possible because of you and your generosity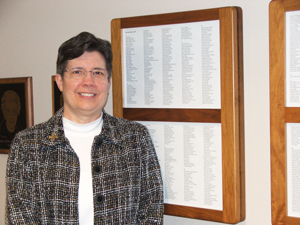 Dear Friend,
I wonder how many times I wrote "thank you" during 2021. Most of the time the accent seems to be on the word "thank." But for this message I want to put the accent on the word "you." For without "you" there would be no thanking.
You – who think of us throughout the year.
You – who have included us in your monthly and quarterly giving.
You – who send us a gift the week the newsletter arrives in your mailbox.
You – who bless us with your gifts in memory of family and friends.
You – who support us at the time of the annual collection for Retired Religious.
You – who include a gift with your Christmas, Easter and "just because" greetings.
You – who use the online giving from our website.
You – who add treats to our table and celebrations.
You – who write supportive messages and share memories of Sisters who shared in your life.
You – whom we pray for every day and ask God for help for your intentions.
Thank YOU and God bless YOU!
Sister Mary Kabat
Development Director
January 2022
P.S. -- To make a gift, simply visit our Donate Today page. You can print the form and send it with your check or you can follow the link that leads to our secure credit card giving page. Also please consider us in your estate planning. You have our thanks and prayers.
---
Planning for Your and Our Future
The Sisters of St. Francis of the Holy Cross are a not-for profit 501c(3) corporation. We are recognized by the IRS as a charitable organization. Any donations made to us are tax deductible. Our corporate title for legal documents is SISTERS OF ST. FRANCIS OF THE HOLY CROSS. Our development office adheres to the guidelines of the National Catholic Development Conference. View our Annual Development Report and read the latest message from our Leadership Team.