Support Our Mission and Sisters
Companions on the journey: Our path together is filled with mutual support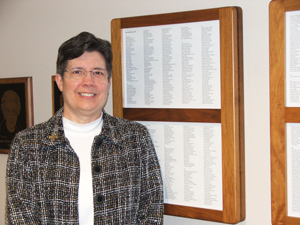 Dear Friend,
2020 – what a year it was! There was so much crisis with the virus, with the economy and jobs lost, with people in need of food and health care, with education in person or virtual. There was so much sadness in not being able to gather as family, as Community or to visit loved ones in nursing homes and assisted living facilities. There was so much crisis in politics, so many voices trying to be heard. We will never forget it, will we!
And yet in it all, you remembered us and helped us with our needs. We are so grateful. You are aware that we are an "aging" Community and that our ability to be involved in earning ministries is waning. In our audit report this year we learned that we are meeting only one-third of our expenses with our earnings.
But we again paid all our 2020 bills because of the help we received from friends and family like you and from the fund you have helped us build over the years for the care of our retired Sisters. Our hearts are filled with gratitude, and you and your needs are ever in our prayers.
Sister Mary Kabat
Development Director
January 2021
P.S. -- To make a gift, simply visit our Donate Today page. You can print the form and send it with your check or you can follow the link that leads to our secure credit card giving page. Also please consider us in your estate planning. You have our thanks and prayers.
---
Planning for Your and Our Future
The Sisters of St. Francis of the Holy Cross are a not-for profit 501c(3) corporation. We are recognized by the IRS as a charitable organization. Any donations made to us are tax deductible. Our corporate title for legal documents is SISTERS OF ST. FRANCIS OF THE HOLY CROSS. Our development office adheres to the guidelines of the National Catholic Development Conference. View our Annual Development Report and read the latest message from our Leadership Team.