Franciscan Prayers
---
Request a Prayer
May we say a prayer for you? We are happy to receive requests for prayers and are honored to lift your needs and thanksgivings to God. Make your request either anonymously or signed through our Prayer Requests form.
---
Sisters' Vocation Prayer
Loving God,
We thank you for your most
generous gift of calling us
to reflect your love to the world
as Sisters of the St. Francis of the Holy Cross.
You know us as women whose
lives are rooted in your
Cross, Word, and Eucharist.
You lead us daily as we
compassionately respond to
the needs our times.
We ask you, loving God,
to inspire women to join us as
together we continue to
uphold human dignity,
pursue peace, and
promote Gospel Justice.
Amen.
---
Franciscan Prayer for International Women's Day
Lord, make me an instrument of peace:
Bless all women who daily strive to bring peace to their communities, their homes and their hearts. Give them strength to continue to turn swords into plowshares.
Where there is hatred, let me sow love:
We pray for all women who face prejudice, inequality and gender disparities. Help us to see and to face the discrimination against women in all the many forms it may take.
Where there is injury, pardon:
Comfort all women who suffer from the pain of war, violence, and abuse. Help them to become instruments of their own reconciliation and peace.
Where there is division, unity:
Forgive all women and men who let differences breed hate and discrimination. Let your example of valuing all of creation help us to see that we are equal partners in the stewardship of your world.
Where there is darkness, light; where there is untruth, truth:
Comfort all women who struggle in the darkness of abuse, poverty, and loneliness. May we stand with them in light to acknowledge their suffering and strive to remove the burdens of shame or embarrassment.
Where there is doubt, true faith:
We pray for all women who live in fear of their husbands, fathers, and forces that control their lives. Help them to be empowered to be their true selves through your everlasting love and faith.
Where there is despair, hope:
We pray for all women who live in the despair of poverty, violence, trafficking, slavery, and abuse. May the light of your love bring them hope.
Where there is sadness, new joy:
Help us to see the strength and goodness in all women and men. Transform our hears to celebrate the love and grace of all people.
And may we be blessed with the courage of St. Clare of Assisi to follow our own path of love for you and all sisters and brothers.
by Deborah Hirt, Franciscans International, 2013
---
Prayer for Peace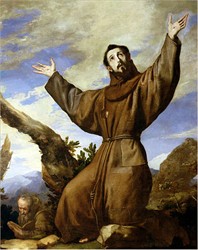 Lord, make me an instrument of your peace.
Where there is hatred, let me bring your love
Where there is injury, pardon
Where there is doubt, faith
Where there is despair, hope
Where there is darkness, light
And where there is sadness, your joy.
Master, grant that I may never seek
so much to be consoled, as to console
to be understood, as to understand
to be loved as to love with all my being.
For it is in pardoning that we are pardoned.
It is in giving selflessly that we receive,
and it is in dying
that we are born to eternal life.
--Attributed to St. Francis
---
The Prayer before the Crucifix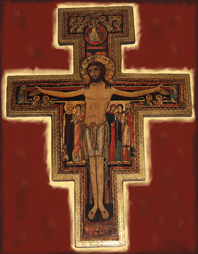 Most High,
glorious God,
enlighten the darkness of my heart
and give me
true faith,
certain hope,
and perfect charity,
sense and knowledge,
Lord,
that I may carry out
Your holy and true command.
---
The Praises of God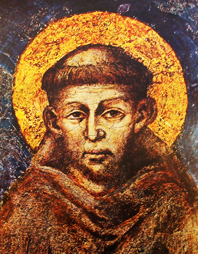 You are the holy Lord God Who does wonderful things.
You are strong. You are great. You are the most high.
You are the almighty king. You holy Father,
King of heaven and earth.
You are three and one, the Lord God of gods;
You are the good, all good, the highest good,
Lord God living and true.
You are love, charity; You are wisdom, You are humility,
You are patience, You are beauty, You are meekness,
You are security, You are rest,
You are gladness and joy, You are our hope, You are justice,
You are moderation, You are all our riches to sufficiency.
You are beauty, You are meekness,
You are the protector. You are our custodian and defender,
You are strength, You are refreshment. You are our hope,
You are our faith, You are our charity,
You are all our sweetness, You are our eternal life:
Great and wonderful Lord, Almighty God, Merciful Savior.
---
A Blessing
May the Lord bless you and keep you.
May He show His Face to you and be merciful to you.
May He turn His countenance to you and give you peace.
---
The Canticle of the Creatures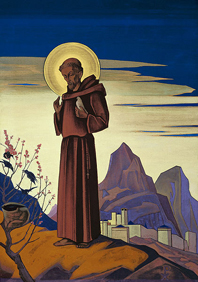 (Meditate with our 4-minute video which presents the Canticle with our mosaics, each a beautiful visual representation of St. Francis' prayer. https://youtu.be/nwZMIOsUCL0)

Most High, all-powerful, good Lord,
Yours are the praises, the glory, and the honor, and all blessing,
To You alone, Most High, do they belong,
and no human is worthy to mention Your name.
Praised be You, my Lord, with all Your creatures,
especially Sir Brother Sun,
Who is the day and through whom You give us light.
And he is beautiful and radiant with great splendor;
and bears a likeness of You, Most High One.
Praised be You, my Lord, through Sister Moon and the stars;
in heaven You formed them clear and precious and beautiful.
Praised be You, my Lord, through Brother Wind,
and through the air, cloudy and serene, and every kind of weather,
through whom You give sustenance to Your creatures.
Praised be You, my Lord, through Sister Water,
who is very useful and humble and precious and chaste.
Praised be You, my Lord, through Brother Fire,
through whom You light the night,
and he is beautiful and playful and robust and strong.
Praised be You, my Lord, through our Sister Mother Earth,
who sustains and governs us,
and who produces various fruit with colored flowers and herbs.
Praised be You, my Lord, through those who give pardon for Your love,
and bear infirmity and tribulation.
Blessed are those who endure in peace
for by You, Most High, shall they be crowned.
Praised be You, my Lord, through our Sister Bodily Death,
from whom no one living can escape.
Woe to those who die in mortal sin.
Blessed are those whom death will find in Your most holy will,
for the second death shall do them no harm.
Praise and bless my Lord and give Him thanks
and serve Him with great humility.
---
Prayer (from "A Letter to the Entire Order")
Almighty, eternal, just and merciful God,
give us miserable ones
the grace to do for You alone
what we know you want us to do
and always to desire what pleases You.
Inwardly cleansed,
interiorly enlightened
and inflamed by the fire of the Holy Spirit,
may we be able to follow
in the footprints of Your beloved Son,
our Lord Jesus Christ,
and, by Your grace alone,
may we make our way to You,
Most High,
Who live and rule
in perfect Trinity and simple Unity,
and are glorified
God almighty,
forever and ever.
Amen.
---
A Prayer Inspired by the Our Father
O Our Father most holy:
Our Creator, Redeemer, Consoler, and Savior:
Who are in heaven:
In the angels and the saints,
enlightening them to know, for You, Lord, are light;
inflaming them to love, for You, Lord, are love;
dwelling in them and filling them with happiness.
for You, Lord, are Supreme Good, the Eternal Good,
from Whom all good comes
without Whom there is no good.
Holy be Your Name:
May knowledge of You become clearer in us
that we may know
the breadth of Your blessings,
the length of Your promises,
the height of Your majesty,
the depth of Your judgments.
Your kingdom come:
That You may rule in us through Your grace
and enable us to come to Your kingdom
where there is clear vision of You,
perfect love of You,
blessed companionship with You,
eternal enjoyment of You.
Your will be done on earth as in heaven:
That we may love You
with our whole heart by always thinking of You,
with our whole soul by always desiring You,
with our whole mind by always directing all our intentions to You.
and by seeking Your glory in everything,
with all our whole strength by exerting
all our energies and affections of body and soul
in the service of Your love and of nothing else;
and we may love our neighbor as ourselves
by drawing them all to Your love with our whole strength,
by rejoicing in the good of others as in our own,
by suffering with others at their misfortunes,
and by giving offense to no one.
Give us this day:
in remembrance, understanding, and reverence
of that love which [our Lord Jesus Christ] had for us
and of those things that He said and did and suffered for us.
our daily Bread:
Your own beloved Son, our Lord Jesus Christ.
Forgive us our trespasses:
through Your ineffable mercy,
through the power of the passion of Your beloved Son
and through the merits and intercession
of the ever blessed Virgin and all Your elect.
As we forgive those who trespass against us:
And what we do not completely forgive,
make us, Lord, forgive completely
that we may truly love our enemies because of You
and we may fervently intercede for them before You,
returning no one evil for evil
and we may strive to help everyone in You.
And lead us not into temptation:
hidden or obvious,
sudden or persistent.
But deliver us from evil:
past,
present,
and to come.
Glory to the Father, and to the Son, and to the Holy Spirit.
As it was in the beginning, is now, and will be forever.
Amen.
---
Texts from Francis of Assisi: Early Documents, Vol. 1, The Saint are used with permission. © 1999 Franciscan Institute of St. Bonaventure University, St. Bonaventure, NY. Published by New City Press, 202 Cardinal Rd., Hyde Park, NY 12538.