Our Community Symbol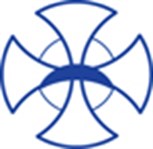 The Sisters of St. Francis of the Holy Cross and the Associates of our Community wear a special symbol. It is designed to tell something about who we are, our spirituality, and our geographic location.
CROSS: As Christians, the cross reminds us of Jesus Christ's consuming love for humankind. It also reminds us that St. Francis had a special love of Jesus crucified, and was marked with the five wounds of Jesus. The cross in our symbol is similar to the Crosier cross which was worn by our founder, the Rev. Edward Daems.
WORD: A partial circle in front of the cross has a two-fold meaning. It represents Jesus, the Word of God Who became human, Who dwells among us, and on Whom our lives rise and set. It signifies Sacred Scripture, the revealed Word of God.
The crescent also reminds us of the beautiful sunsets over the waters of Green Bay that we see daily from our Motherhouse.
EUCHARIST: The cross rests on a circle that signifies to us that we are to be rooted in the Body of Jesus in the Eucharist, and the Body of Christ in the Community.
We are called to be rooted in the Cross, the Word, and the Eucharist.