Vocation - Are You Hearing God's Call?
Listening, asking are first steps
by Sister Laura Zelten
Each vocation -- marriage, religious life, ordination, single life -- is a call to community, holiness of life and service to others. No vocation is better than another, but each has its own specific signs, qualities and skills. Discerning a vocation is the beginning of making a commitment.
As Vocation Director for our Community I am in contact with women interested in religious life. I realize it is not easy to take the first step toward such a commitment. I invite you learn more about God's unique call for you and ask questions at any of the the upcoming events.
Be assured, our lives as religious women are made rich by God's love, the love of our Sisters and the love of those whom we serve.
---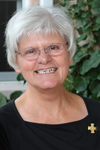 Sister Laura is a native of De Pere, a long-time educator and is bilingual. Catch more of Sister Laura's musings on her blog. She's also a great conversationalist -- and a wonderful listener. You can reach her at vocations@gbfranciscans.org.
Community as Gift
Are you ready to make a positive difference in the world? Sister Laura briefly touches on the many gifts that come from belonging to a community of Sisters, from daily prayer, service and love of others. (1:14 min.)