Community History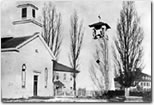 1868-1880
During this 12-year period four courageous women -- Pauline LaPlante, Christine Rousseau, Pius Doyle, and Mary Van Lanen -- responded to Father Edward Francis Daems' request to minister with him among the immigrants on the peninsula of Wisconsin. Together, they laid the foundation for our religious community: living a simple life, following the Rule of St. Francis, and educating immigrant children, especially in their religion. The diversity of the immigrants' languages, the hard work of frontier life, poverty, and ill health presented great challenges for our founders. Most challenging of all was Fr. Daems' death on February 12, 1879.
---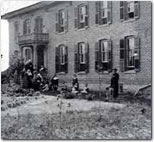 1881-1899
Honoring the desire of Fr. Daems to establish a new community of religious, our founding members received approval of the first Constitutions from Green Bay's Bishop Krautbauer on March 14, 1881. As our membership expanded to 20 professed Sisters, we extended our outreach from one school to six. During the summer months, our Sisters continued their own education. They worked hard to operate their farm and incurred significant debts by building a convent in Bay Settlement. In 1893, our Community was incorporated as an educational and charitable organization under the name "Sisters of St. Francis of Bay Settlement."
---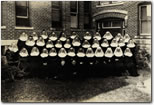 1900-1919
The new century opened with a year of jubilee. For the first time, 15 of our professed members professed perpetual vows on August 27, 1900. During the next several years, the Sisters experienced the sorrows of death and very few new members. Pastors continually sought our Sisters to teach in parish schools.
In 1902, our Community responded to Bishop Messmer's request that we continue the service of religious instruction at the Chapel in Robinsonville (now known as the Shrine of Our Lady of Good Help in Champion) that Adele Brice had begun. Through much personal sacrifice by our Sisters and the wisdom of Mother Francis, all debts were paid by 1905. Growth and expansion marked the second decade of the century. To accommodate 45 Sisters and eight novices, a new wing with a larger Chapel was added to the Convent in 1917. We began a formal program of religious formation for new members under the direction of Sister Claire.
---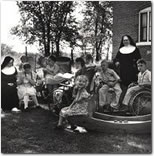 1920-1939
Our Community continued its strong commitment to educate our Sisters for religious life and also for our ministry as elementary school teachers. We began new ministries to educate children with mental and physical needs at the
Chapel at Robinsonville
, and to assist elders at the McCormick Memorial Home in Allouez. For the first time, our Community extended its ministry beyond the Green Bay Diocese by undertaking a mission to teach at St. Joseph Parish in Madison. Though struggling through the depression of the 1930s, our Sisters successfully financed another major addition to the Convent, the 1932 wing.
---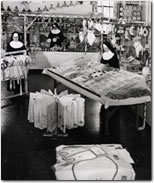 1940-1959
During World War II, our Sisters assisted in the war efforts by wrapping bandages. Educational pursuits had to be put on hold for several years, so our Sisters focused on internal community matters. We revised our Constitutions to comply with changes in Canon (Church) Law, developed a book of customs, and prepared a manual of vocal prayer for our Sisters to use. These changes made our lives more regulated and uniform.
Due to changes in society during the 1950s, many fewer children were being placed at the Chapel in Robinsonville for their education. At the same time, many young women showed an interest in religious life. In 1953, the Chapel became a center for the religious formation and education of young women. This program continued for 15 years, after which the Chapel became a House of Prayer.
We celebrated our75th jubilee as a Community in 1956. It was in this year that we adopted the title, Sisters of St. Francis of the Holy Cross, in recognition of the importance of the cross for Franciscans and Crosiers, the religious order to which Fr. Daems belonged. The continued growth that we experienced and the deteriorating condition of the 1888 Convent made it necessary to build once again. In 1959 we joined the 1917 and 1932 wings with a spacious new Convent.
---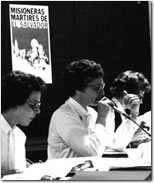 1960-1979
Dramatic changes took place in the Catholic Church as a result of the Second Vatican Council. In response to the call to renew our religious life, we studied the documents of Vatican II, re-considered the inspiration of our founders, and engaged in adaptation and renewal of all aspects of our lives.
This period of renewal brought new hope as we worked side by side with others in our ministries. We began to serve and learn from a wider variety of cultures -- Nicaraguans, the Carrier Indians in British Columbia, African Americans in Milwaukee and Chicago, members of the Oneida Nation in northeastern Wisconsin, migrant workers, and Appalachian people. Our outreach extended to adults as we directed religious education programs and began offering pastoral services in parishes. Some of us also ministered in health care.
---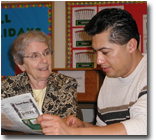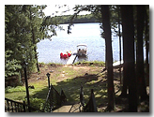 1980-2000
As we approached our centennial, we remained vibrant and committed to our mission within the Church. We established an Associate program in 1984, through which women and men in the single or married life join us in furthering our spirit and mission. Our Community studied various issues and took corporate stands to: (1) support the Jubilee 2000 Campaign for Debt Relief; (2) oppose the death penalty; and (3) urge the redirection of excessive military spending to meet social needs.
We also manage to enjoy God's blessings of friendship and nature through the generous donation of Rev. Robert J. Hogan who, in 1985, willed his Kateri Hill property to be used for 15 years by the Sisters. In August 2000, the Community became the owners of the property. It has been used for many relaxing and enjoyable times with Sisters and family members.
---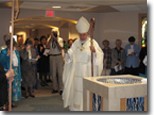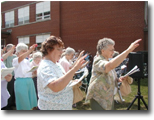 Other highlights:
1996 -- Sisters Jeanne Jarvis and Carlotta Ullmer received the Volunteer of the Year Award from the Literacy Council of Green Bay for their many years of service teaching English to adults of many nationalities.
1996 -- At the Community Assembly on July 30 the Sisters affirmed their desire and commitment "As a Community to witness the Gospel by bringing Franciscan values into the 21st century.
1997 -- Sister Louise Hunt completed an updated History of the Sisters of St. Francis of the Holy Cross.
1998 -- We established Wellspring, a place of hospitality and respite for women on Green Bay's west side. We also intensified our efforts to invite new vowed members. In these and other creative ways, our Sisters and Associates continue our founders' mission to further God's reign by responding to unmet needs, including those of present immigrant groups of northeast Wisconsin.
2005 -- During the March 19 snowstorm, the Community broke ground for their new Motherhouse on Nicolet Drive.
June 2005 to July 2006 -- Sisters celebrate their 125th Anniversary with five major events including a Pilgrimage Day in which Crosier priest and brothers shared in reenactments and remembrances at locations significant in the Community's history.
2006 -- The Sisters' new Motherhouse is dedicated and blessed by Bishop David Zubik on Sept. 24.
2011 -- The Sisters transfer sponsorship of Wellspring: A Place of Peace for Women to Lutheran Social Services of Wisconsin and Upper Michigan on Sept. 1.