The oils of our Church mark us for mission and ministry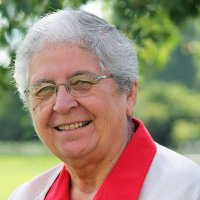 by Sister Elise Cholewinski
"Rebuild my church." Having heard this message twice from the Lord in the church of Sam Damiano, St. Francis of Assisi eventually changed his whole lifestyle.
One of the very special liturgies of Holy Week is the Chrism Mass, celebrated at the cathedral on Tuesday of that week. During that liturgy the bishop consecrates the three oils that are to be used in the celebration of the sacraments in all of the churches of the diocese throughout the year. One of the oils is the Sacred Chrism, with which a person is anointed after receiving Baptism and Confirmation. It is a symbol of being called and chosen by the Lord to carry on Christ's mission and ministry.
As Francis went about rebuilding the Church through prayer, preaching, and penance, he underwent a continual conversion. Instead of ascending some kind of spiritual ladder to find God, he discovered Jesus in the poorest and lowliest members of society. He not only cared for them but actually identified with them through the clothing he wore and the manner in which he lived. His conversion was characterized by a process of downward mobility.
There was a time when we were anointed with the Sacred Chrism; we were called and chosen. When have we had a moment that caused us to stop short, to re-examine our values, and to turn our steps in a new direction? When and how has the Lord summoned us to emerge from our comfort zone and to descend social ladder and be in solidarity with those who are unnoticed and discarded? At this moment in history, what does our being anointed for service speak to us about being "alone together"?