As Jesus - Love Incarnate - enters Jerusalem with which bystander do we identify?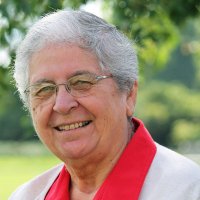 by Sister Elise Cholewinski
There was an occasion when St. Francis of Assisi moved through his town weeping and shouting, "Love is not loved." As Jesus rode into Jerusalem on this day, could one of His disciples have echoed the same message, "Love is not loved." Jesus truly was Love Incarnate.
As Jesus entered the holy city in the midst of people acclaiming Him and spreading palm branches before Him, He must have recognized a mixture of emotions among the bystanders. Some may have encountered Him in the past in ways that led to a deep love for Him. Some were present because they liked the excitement of being part of a "happening". Some may have been bewildered by the noise, wondering what the commotion was all about and who this person could be. Some may have been totally indifferent, not having a thought about Jesus, but just going through the motions of the mob. Some may have been angry or jealous. Some were actually fearful, trying to exercise some kind of crowd control.
Jesus is Love Incarnate. Yes, He did come from Nazareth, a town with a bad reputation. Yes, He did come from Galilee, a district that did not produce prophets. Yes, nothing great would have been expected of Him. Yes, but ...
As we enter into Holy Week this year, we might asses our own feelings. We won't be in church this Palm Sunday, carrying a palm branch and walking in a procession. Alone and in silence, we can ponder what lies in our own hearts. How strong is our faith in Jesus? Do we love Him? Are we ready to walk the rest of the journey with Him? If so, then we can truly cry, "Hosanna!"