Bart Starr's dad, chicken dinners and a Mardi Gras celebration are a few of the Sisters' fond memories
(Winter 2019 newsletter) -- We're back! Life can take a person full circle. So it is for us! When Sister Agnes Fischer and Sister Anne Margaret Carmody moved to the Motherhouse from the community-owned home on David Drive in Green Bay, we moved in. Although we are new to the home and neighborhood, we are not new to one or more parishes now making up the Quad Parishes on the west side of Green Bay. Read on!
Sister Mary Berg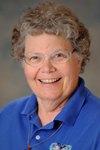 In my first year of teaching I taught third grade at St. Jude for a half semester in the 1967-68 school year. I remember because it was the year the Packers won the first Super Bowl. My name then was Sister Mary Robert Berg. From 2004-2008 I taught middle school language arts at the Annunciation site. I remember the mystery dinner the faculty offered at the Mardi Gras auction. I do not know who had more fun: the couples who came or the faculty. Many laughs were had.
Sister Mary Kabat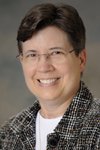 My parents' families belonged to St. Patrick Parish and there Lawrence and Berdie Kabat were married. They joined Annunciation Parish, the church of my Baptism and First Communion. A house on Dousman Street across from the Fisk Park tennis courts is the first home I remember. My siblings and I could easily walk to Annunciation School which I attended through fourth grade. We then moved to Kellogg Street and became members of St. Jude Parish. My graduation picture still hangs in the hallway. Our family was very active in the parish (my hands are still recovering from all the dishes I washed at the chicken dinners and other parish events for which my parents volunteered us.) It was a great blessing for me to get to know the Bay Settlement Sisters serving at St. Jude whom I joined after high school. I am happy to be in the Quad Parishes renewing old friendships and making new ones.
Sister Renee Delvaux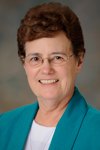 I have fond memories of my two years (1966-1968) of teaching at St. Jude School. I enjoyed working with the other teachers and the students. The '60s were the years when lay teachers were beginning to teach in the Catholic schools. We had 10 Sisters and four lay teachers on staff in 1966. I appreciated the pastor, Rev. Tony Baier, who invited the Sisters to accompany him for the weekly Sunday Mass at Grancare Nursing Home. We assisted residents in wheelchairs and helped with singing and general visiting. One memorable day at our convent was when parishioner Lawrence Kabat brought Bart Starr's dad to visit the Sisters. Wow! A famous Packer player's father in our house! Also in the '60s the Sisters did not have a car. We depended on parishioners to lend us their cars or take us to appointments, etc. I remember so many generous people who were willing to help us.