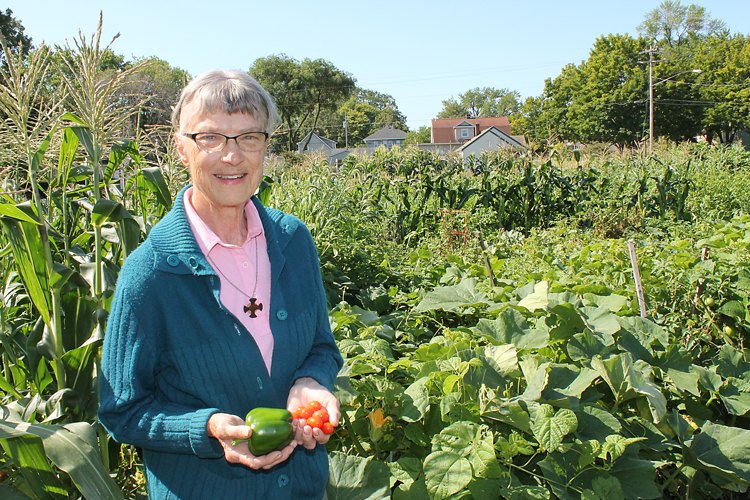 BACK TO THE GARDEN: Sister Maria Drzewiecki always plants tomatoes, green peppers, radishes and squash in her garden. Her plot is one of nearly 400 available through the Extension Brown County Community Gardens Program. (Renae Bauer photo)
Local gardens invite people to know and grow their own food
by Renae Bauer
Fall 2019 newsletter
You could say that farming is in the Sisters' blood.
Originally founded to teach immigrants of this region their catechism and academics, the Sisters of St. Francis of the Holy Cross also raised cows and chickens and tended fruit trees and vegetable gardens for most of their 151-year history, earning them the moniker, "the farm Sisters." And while farming isn't done on the same scale as it once was, many Sisters still garden, and, since 2003, the Community itself has been sharing a tract of land along Church Road with the Extension Brown County Community Gardens Program of the University of Wisconsin-Madison. The program rents garden plots so individuals and families can grow affordable, nutritious and culturally appropriate food, says Margaret Franchino, Community Garden Coordinator for Extension Brown County. The Church Road garden is about 1.5 acres, the largest of the 11 gardens in the program.
One of the gardeners on Church Road is Allen Pyle, a self-described "plant nerd." Like most community gardeners, he is growing food to eat and to give to local pantries but he is also interested in edible weeds, wild plants and new variations such as lime basil and green pepper basil.
This Michigan native is a big proponent of community gardens and says Wisconsinites are fortunate to have a strong Extension system and Master Gardener Program. For Pyle, who holds a master's degree in entomology (insects), gardening is a healthy, therapeutic and essential skill. To know how to garden is to know how to provide for yourself and to know where your food is from and how it was grown.
This is a universal value, of course, one that Sister Maria Drzewiecki experienced during her 30-year ministry in Nicaragua. She worked with families who wanted to learn new farming skills and counteract the deforestation of the country's rain forests. She introduced Nicaraguans to alley cropping -- the planting of trees in rows with alleys wide enough to plant crops. While living in Muelle de los Bueyes, Sister Maria used the convent yard as a lab where she experimented with different sustainable planting techniques.
Nowadays, Sister Maria rents one of the Community Garden plots on the westside of Green Bay where she grows tomatoes, green peppers, radishes, beans and squash for her local house of four Sisters to eat and enjoy. Too much shade and too little land at the house prevent her from gardening there; plus, she says the Community Garden is convenient. It's only three blocks from home, it's plowed twice a year for her and the other gardeners, and water is readily available. She also likes the social aspect of the Community Garden.
The Sisters' Franciscan roots are at the core of this. They recognize that Sister Earth provides food, flowers and herbs and is a gift from God. In return they care for her and share the bounty with others. As 1 Cor. 3:7 says, "Neither the one who plants nor the one who waters is anything, but only God, who causes the growth."