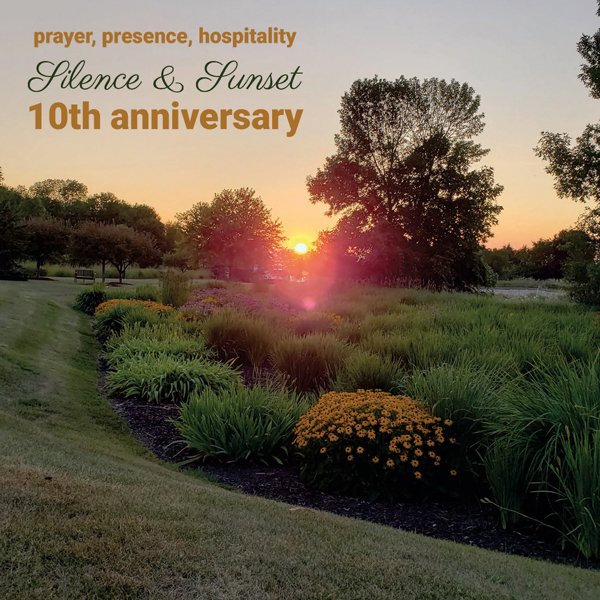 Summertime gatherings focus on prayer, presence and hospitality
by Renae Bauer
Its origins were simple enough. While gathered for the 2013 General Chapter, a Sister commented that the Community should offer a prayer opportunity to the public. Sister Laura Zelten agreed, saying, "We'll call it 'Silence & Sunset', and we'll invite people to come and pray with us and enjoy the outdoors, particularly the sunset over the Bay."
Within six months, the Sisters had hosted the first two summer evenings of prayer, and the response was overwhelmingly positive. Now in its 10th year, "Silence & Sunset" might offer different presentations and activities each summer but three things stay the same -- prayer, presence and hospitality.
"People consistently say they like the opportunity to pray with the Sisters, and when they come here they are amazed at the beauty of our grounds," says Sister Laura. "Dennis Mercier (manager of convent buildings and grounds) has taken good care of the property so that it is a place where people can come and pray surrounded by the beauty of God's nature."
Connecting with God
Someone who has enjoyed the trails, flowers and ponds is Sue Naniot, who has regularly attended "Silence & Sunset" since 2016. Yes, the natural surroundings have been an attraction but so has the time with God and with others.
"As the summer months and subsequent years unfolded, the evening has never disappointed!" says Sue. "Mary Ann Tikalsky and I have walked the grounds ... sat on the back porch and read, prayed, watched for Monarchs, and pondered life. We have experienced the beauty of the Sisters' mosaics, historical artifacts, and watercolor painting displays. We have renewed past friendships and made new friends before gathering outside to watch the sun set and to join our voices in a song of praise to our God."
Kristin LaPlante agrees: "I have always enjoyed my time at 'Silence and Sunset.' I love how the Community incorporates faith in so many every-day experiences, such as art, music, conversation, and nature. These events have been a time of connection for me and God and His creation."
And that is the point of "Silence & Sunset," says Sister Nancy Langlois.
"Over the past 10 years, more than a thousand men and women have confirmed the choice of these words (prayer, presence and hospitality) through the 'Silence & Sunset' experience," she says. "After their time with us, they say they have wonderfully known the opportunity for quiet prayer and the presence and hospitality of the Sisters and Associates in ways that deeply touched their lives."
Newcomer Jerilyn Owen started attending "Silence & Sunset" in 2022 with her two adult daughters. It was the event's name that first attracted her, but soon there were other reasons.
"It is the serenity of the grounds, the community of the Sisters who are so faithful and kind, and the opening and closing prayer that keeps me coming back," says Jerilyn. "I can connect with God when I am there, whether it be during the opening prayer/reflection time or through the lens of my camera with the beautiful grounds and wildlife."
Special evenings
The Sisters will continue to invite people to these summer evenings of prayer because of their mission, and, God willing, people like Diann Wimmer will continue to respond.
"I will continue to attend because I love the people who come, I am inspired with the readings and the prayers, and I need the chance to reflect on the goodness of God, the beauty of creation and the spiritual awareness of those who gather for this event."