by Sister Ann Rehrauer, Community President
Spring 2021 newsletter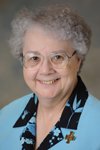 Charles Dickens' opening line of the classic novel, A Tale of Two Cities, parallels my reflections about this past year: "It was the best of times. It was the worst of times." These days many of us are reflecting upon and writing about what we have learned from the experience of the pandemic.
The Worst of Times
On March 16, 2020, the Leadership Team symbolically and physically closed the front entrance to the Motherhouse and prohibited Sisters from leaving the premises and barred others (including our Sisters who did not live here) from entering. The only exceptions were our staff and medical personnel.
This was very difficult for our other Sisters who regularly help with receptionist duties and visit our elderly members. For all of us, the Motherhouse is "home," and suddenly we asked them to stay away to protect everyone involved. Many people across the country experienced the same type of separation and loneliness as holidays, birthdays, and even family funerals occurred without their participation. Our Sister Jeanne Jarvis died during this time and we were forced to livestream her funeral service because members were not allowed to attend. Other Sisters also lost family members during this time. Those who attended the funeral had to quarantine in their rooms for 14 days after, and others were not able to attend.
Lonely journeys
The imposed quarantine affected our spiritual lives as we experienced a Holy Week without Mass and did not have daily or Sunday Mass from March 17 through June 13. Sisters didn't leave the building even for medical appointments during that same time period, and many exhibited longer locks as haircuts and perms were unavailable. A few Sisters with tonsorial skills did step up – with results that were "more or less" successful. Sisters taken to the emergency room went without one of us to support them, since hospitals had closed their doors to anyone who was not a patient. Jenny Majkowski, our Motherhouse and Human Resources Coordinator, tracked CDC guidelines and kept staff informed about updated regulations and our changing safety guidelines.
And the best of times
Of lessons we've learned in this, probably the first is the reminder of how difficult change is for all of us. Even when we are willing to sacrifice our wishes for the common good, it is not easy, and the longer it goes, the more it wears on us. Masks and distancing are not pleasant, but we do it out of care for others.
Second is how resilient the human spirit is when we work at it together. The imposed "house arrest" affected the retired Sisters who were used to shopping, volunteering, and living a normal routine. However, they soon adjusted and exhibited such good will, that it helped all of us cope. Some "outside" Sisters shopped for them and delivered needed items to the front lobby.
Creating ways to be connected
Third, times of stress bring out a creativity and skills we don't always realize we have, and teach us to appreciate the simple things of life. A weekly newsletter to keep us connected, Saturday bingo games and other "sedentary" competitions, Sunday afternoon DVD's/ movies, and snacks and socials initiated by a variety of Sisters helped to keep up our spirits. Sisters "inside and outside" the Motherhouse communicated through cards, notes, videoconference technology and phone calls to remind each other that they were loved and being supported in prayer.
I've highlighted a few things we've learned during these days, but there are many more. And all of you have your own stories of love and sacrifice, new ways of being "together," and people who have helped you through these tough times. As we look forward to better days with the rollout of vaccines, we hope we never take these simple treasures for granted – but remember to thank God and each other for the people and experiences of grace and goodness in our lives.