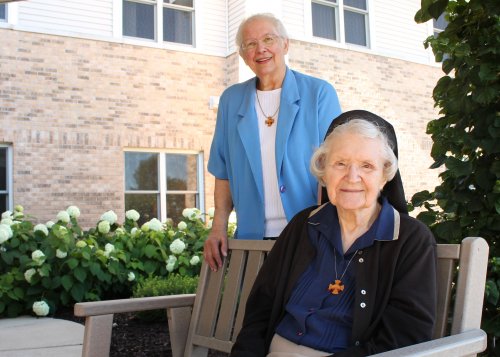 Sister Cecelia Blonde and Sister Jeanette Peplinski, sitting, have familial sisters who,
like them, have professed religious vows. (Renae Bauer photo)
How many of our Sisters have sisters who are Sisters? You might be as surprised as we were!
by Sister Mary Kabat
Fall 2020 newsletter
Stories have a curious way of evolving sometimes. While reflecting on how many of our Sisters have familial sisters who entered religious life also we were surprised at how many there have been. Their stories are precious, inspiring and entertaining which is why we are bringing them to you in this feature called "Sister Sisters."
The Blonde Sisters, St. Philip Parish in Green Bay
Mary Ann Blonde (Sister Cecelia), the second of four children, grew up in a faith-filled family on a farm in the Preble area of Green Bay. She attended St. Philip School, staffed by the Franciscan Sisters of Christian Charity from Manitowoc. She remembers how she and her sister Annette, one year younger, would dress up pretending to be teaching Sisters. After grade school Mary Ann asked to attend St. Joseph Academy High School for two years to grow further in her faith and education promising to give her parents her babysitting money to help with the tuition.
One night at the supper table Annette announced she wanted to join the Manitowoc Sisters after grade school to become a nurse. Mary Ann announced she wanted to join the Sisters in Bay Settlement (our Community) to become a teacher. Annette left home that August to be received as Sister Martin (later changing her name back to Sister Annette) and Mary Ann left in September to be received in 1957 as Sister Cecelia. Their parents gave their blessing and support to two daughters and two helpers on the family farm.
Maybe going to two separate communities was in their blood. Their mother had an aunt, Sister Digna, with the Manitowoc Sisters and their father had a cousin, Sister Florence, with the Bay Settlement Sisters.
As life would have it, both Blonde sisters became teachers and principals. This common ministry gave them advice to share and times to meet when they were at Diocesan meetings and talks. As Sister Annette said, when she needed help on a school matter you can guess whose phone would ring.
Sister Annette spent 50 years and Sister Cecelia 52 years in ministry as teachers and principals. Both loved the joy and life their students added to their own. Sister Annette retired to St. Rita Health Center due to health needs. Her mission now is to accept her limitations, pray for her Sisters in active ministry and help the Sisters she lives with in any way she can. Sister Cecelia now shares her love for people and compassion for their needs in Care Ministry through Holy Family Parish, Brillion. She visits seniors and prays the rosary in two nursing homes. As she says, "God gave me life to share with others." They continue to support and encourage each other in the joys and challenges that life brings, enjoying a visit, a drive, a cottage day, time with family and cousins and an ice cream stop when they can.
"Annette had always said she wanted to become a nun and as she was preparing to leave for the convent our Dad kiddingly asked my oldest sister Mary, who was shy and very quiet, if she wanted to join the convent, too. My Dad nearly fell off his chair when she said, 'Absolutely.' With both sisters leaving that same summer and my brother leaving for college the next year, it was a lonely time for me; plus, I was responsible for doing their chores! Even though our lifestyles are different, we still share that special bond of being sisters."
-- Joni Glysch, sister of Sister Cecelia and Sister Annette
The Peplinski Sisters, St. James Parish in Amherst
| | |
| --- | --- |
| | |
| Sister Jeanette | Sister Clairann |
Clarice (Sister Jeanette), the oldest of seven children, was born in Portage County. After the family briefly moved to Milwaukee for work, they returned to Amherst and ran the "Café", a tavern and restaurant. Sister Jeanette became acquainted with the Bay Settlement Sisters through summer catechism classes. Her pastor strongly encouraged vocations and after one year of high school, her parents supported Sister Jeanette's choice to enter the convent where she was received as a member in 1941.
A defining period of her life was when she, a self-taught piano player, had the opportunity to study music, including piano and organ, with Norbertine Father Ambrose Dobbelsteen. Sister Jeanette went on to complete her music degree becoming skilled in piano, organ and accordion which she generously shared wherever she was assigned.
She taught music in various schools, organizing choirs and even an orchestra. After the Second Vatican Council she was asked to serve on the newly formed Diocesan Liturgical Commission. In the 1970s Sister Jeanette and other Sisters spent summers in Tachi, British Columbia, teaching catechism to the Native American children. By 1977 her ministry there became year-round. Though time was spent teaching catechism to the children and Bible studies to the adults, the core of the Sisters' ministry was "living with them" and being "a part of their life." Enjoyable evenings were spent playing music and singing native songs with the villagers.
Her sister Beatrice (Sister Clairann) was a bright student. While working in the family restaurant, she graduated with a secondary education degree from the Central State Teachers College in Stevens Point with a specialty in science and began her teaching career. It wasn't until 13 years after her older sister had left home for the convent that Sister Clairann would join the Bay Settlement Sisters. She loved to say that she was 13 years younger than Sister Jeanette though she was only four years younger. Older than the other entrants she became a teacher in the pre-Novitiate and later became a core member at the Chapel in Champion and a religious education coordinator for parishes at Bay Settlement and in Door County.
Sister Clairann had a smile that lit up a room, a wonderful laugh and a song for every occasion. She avidly listened to world news on public radio and loved to discuss (argue) the issues of the day. After a period of declining health and care at Woodside Nursing Home, she died in 2017. Sister Jeanette is enjoying her retirement at the Motherhouse and still sharing her musical talents with her Sisters and residents at Woodside Nursing Home which she began during her sister's time of care.
"Sister Jeanette left home for the convent when I was a year old. When I was about 4, Mom was on her knees scrubbing the kitchen floor and I asked, 'Mama, who is that lady we go to see in Green Bay?' Poor Mom was aghast: 'She's your sister!' Now it was my turn to be aghast. Here I thought I had enough sisters at home, three, to boss me around! Sister Clairann graduated from Central State Teachers College, taught high school math in Merrill for three years, loved martinis, had boyfriends and worked weekends at Pep's Café and then went into the convent. But they were always and still are my sisters first then Sisters. I love them dearly and have always treasured them in my life. I've always had the image of our family having a special path directly to the gates of heaven. Surely the dear Lord would reward our family for having two of His children in His service."
-- Annette Horvath, sister of Sister Jeanette and Sister Clairann
The Buhr Sisters, St. Peter Parish in Lincoln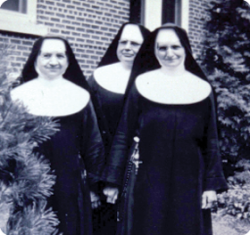 Sister Dolores, left, and Sister Nicholetta, right
Anna (Sister Nicholetta) and her younger sister Magdalena (Sister Dolores) were received into the Community together in 1922. Two other sisters, Sister Florentine and Sister Francis Bede, became members of the Franciscan Sisters of Christian Charity, Manitowoc.
Sister Nicholetta served as homemaker at several parish convents and the McCormick Home in Allouez before poor health forced her to retire. Though she was a quiet person she was known for her humor and for adding her sage advice to a conversation. She died in 1964.
Sister Dolores came to the Community with a teaching license from the Oshkosh Normal School. She devoted herself to the children at the Crippled Children's Home at the Chapel in Champion, developing individual lessons for each child's need. Later suffering from poor health Sister Dolores devoted herself to prayer and was comforted by visits from Sister Florentine. She died in 1981.
The Drais Sisters, Holy Cross Parish in Bay Settlement
Sister Gertrude, left,
and Sister Philomena

Sister Rita
The Drais sisters were received into the Community one year after another: Mary Ann (Sister Philomena) in 1911, Rosa (Sister Gertrude) in 1912 and Elizabeth (Sister Rita) in 1913. Until 1965 Sister Philomena served as a homemaker for the Sisters at several parish schools as well as housekeeper at the McCormick Home in Allouez, doing all she could to make the residents comfortable and happy. She also served at the Crippled Children's Home at the Chapel in Champion. She outlived her younger sisters, dying in 1982.
Rosa (Sister Gertrude) was a teacher in her early years and then served as a homemaker for 48 years. She was an avid knitter of mittens, caps and scarves for the poor. She was a prayerful, determined and matter-of-fact person. She died in 1974 the night before she was to have her second leg amputated due to diabetes. We know the Lord heard her prayer.
Elizabeth (Sister Rita) served the community as a cook and housekeeper. At age 44 she was bedridden for many months with cancer. Sister Philomena and Sister Gertrude were with her when she died in 1942.
The Gagnon Sisters, St. Michael Parish in Keshena and Our Lady of Lourdes Parish in Marinette
| | |
| --- | --- |
| | |
| Sister Blasé | Sister Stanislaus |
Margaret (Sister Blasé) and Rose (Sister Stanislaus) were of the Menominee Nation in Keshena, Wis. They were born 10 years apart and entered the Community seven years apart. Sister Blasé was received in 1898 and served as a housekeeper. In 1923, at age 47, she contracted tuberculosis and died soon after.
Sister Stanislaus became a teacher and had a natural talent for art, producing many beautiful paintings. She died of TB in 1941 on her sister's death anniversary, May 23. They had a sister, Sister Oderic, who joined the Sisters of St. Joseph of St. Louis.
The Greenwood Sisters, Holy Cross Parish in Bay Settlement
| | |
| --- | --- |
| | |
| Sister Raphael | Sister Louise |
Mary Anna (Sister Raphael) was received into the Community in 1905, five years before her older sister Wilgie (Sister Louise). Beginning at age 15, Sister Raphael taught for more than 42 years at many schools and the Crippled Children's Home at the Chapel in Champion. Sister Louise was 27 when she was received by the Community as she had remained home to care for their mother. She also became a teacher, known for teaching children to sing and for conducting plays. Sister Louise cared for Sister Raphael when poor health led to her death in 1955. After 40 years of ministry Sister Louise moved to the Motherhouse, dying in 1967.
The Jungwirth Sisters, St. Rosalia Parish in Sister Bay
| | |
| --- | --- |
| | |
| Sister Gabriel | Sister Michael |
Catherine (Sister Gabriel) was received into the Community in 1905. She served as a cook, teacher and principal and then as Superior of the Community for 17 years with 11 more years as Assistant Superior. Is it any wonder she loved to spend hours in the garden and orchard? Her older sister Anna (Sister Michael) was received into the Community in 1914. She was known for her housekeeping skills and expertise as a seamstress, a skill she shared well into retirement. Sister
Michael served for years at the McCormick Home in Allouez. You could find her in the laundry, the kitchen, the sewing Sister Gabriel Sister Michael room and at the bedside of the sick and dying. Sister Gabriel lived to the age of 86 and Sister Michael to 96.
The Nichols Sisters, St. Patrick Parish in Stephensville
Sister
Bertilla
Sister
Louise

Sister Ambrose
Julia (Sister Bertilla) and older sister Mary (Sister Louis) were received into the Community together in 1918. Their sister Jane (Sister Ambrose) followed six years later. Julia was a natural teacher. As a girl she assisted the pastor by teaching younger students while he taught older ones for Saturday religion classes. Sister Bertilla taught elementary school until she was needed to teach young women joining the Community. She taught college courses to the postulants and novices at the Motherhouse until 1968. During that time, she also served as Novice Directress from 1950 to 1957. In retirement Sister Bertilla focused her talents on remedial teaching of children and attending enrichment classes at UW-Green Bay. She accepted Parkinson's Disease which took her life in 1991.
Mary (Sister Louis) served as a teacher for 50 years in the Green Bay and Madison dioceses and as a Diocesan Supervisor. She loved the teaching ministry! Sister Louis had an Irish wit, a glint in her eyes and was gifted at making puns that brought laughter to many situations. She retired in 1969 and would suffer from dementia until her death in 1978.
Jane (Sister Ambrose), a gifted and charming woman, was teaching before her 20th birthday. By age 30 she was serving as a local house superior and school principal. She went on to serve the Community as Major Superior, member of the council, Directress of postulants and novices, and helped establish the Community's first juniorate. She was Major Superior when the Community built the five-floor 1959 addition. In 1962 she announced that the $500,000 debt had been repaid. In her 1965 Administrative Report for the Community she wrote, "If we can love God in His poor, in His neglected, in His troubled adolescents; if we can genuinely love God in each of our Sisters, then we may hope to bring God's people closer to Him." Sister Ambrose died in 1994.
The Paider Sisters, St. Joseph Parish in Pilsen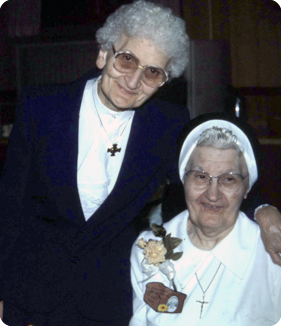 Sister Germaine, left, and Sister Hermana
Raised on the family farm, Mary (Sister Hermana) was received into the Community in 1924 and her younger sister Agnes (Sister Germaine) was received in 1932. Sister Hermana served her Sisters as homemaker, garden supervisor and head cook for 60 years. Her kindness endeared her to all. She had a special devotion to St. Joseph and kept a small statue on the kitchen counter. If you came in the kitchen and saw St. Joseph turned to the wall you knew Sister Hermana was waiting for a prayer to be answered. She ended each day before the Blessed Sacrament. With her body worn from her years of service, Sister Hermana died in 2001.
Sister Germaine had the energy and dedication of her older sister. She served as an educator in the diocese and Texas for 45 years and ministered at the McCormick Home in Allouez and the Chapel in Champion. In her "retirement" years she visited the elderly and cared for them in their homes. She delighted the Motherhouse Community with her presence, joy, positive spirit and yummy treats. We well remember Sister Germaine's funeral visitation in August of 2011. A tornado warning sent Sisters, family and guests to the stairwell shelters, leaving Sister Germaine alone. With laughter all later returned to continue the interrupted prayer.
The Piotrowski Sisters, St. Patrick Parish in Lanark
| | |
| --- | --- |
| | |
| Sister Romana | Sister Mary Bede |
Bernice (Sister Romana), received as a Sister in 1934, came to Bay Settlement after eighth grade, completing her high school and college education including a major in history. She became a teacher of students in grades 4 through 8 in the Green Bay Diocese and Columbus, Texas. She went on to teach elementary and high school for 45 years in the Green Bay Diocese, Texas, North Dakota and Alabama. Sister Romana's health required a change of climate. She transferred to the Sisters of the Immaculate Heart in Tucson, Ariz., in 1962.
Her younger sister Agnes (Sister Mary Bede) was received in 1941. She pursued graduate studies in home economics. In retirement, Sister Bede achieved her dream of opening a gift shop in Door County to raise funds for the poor in Appalachia and the Dominican Republic. Her Raggedy Ann dolls were just one of her creations. She is well remembered for her gift of storytelling and humor. If only we had a video of her monologue of "Lewinski at the Wedding." She died in 2013.
The Rottier Sisters, St. Boniface Parish in De Pere
| | |
| --- | --- |
| | |
| Sister Bernard | Sister Caroline |
Lizzie (Sister Bernard) worked on the family farm and for the Norbertines before she was received into the Community in 1918. She soon became a beloved teacher and storyteller. After obtaining her master's degree from the University of Wisconsin she taught biology at St. Norbert College for many summers. While teaching in Neopit, the Menominee Nation made her a member in recognition of her teaching and promoting sports for boys and girls. Sister Bernard died of cancer in 1968.
Her younger sister Cecilia (Sister Caroline) cared for their widowed mother before being received into the Community in 1935. She was a homemaker for the Sisters including 13 years at the McCormick Home in Allouez. She excelled in management, organization and cleanliness and was known for her cheerfulness. Sister Caroline died during surgery in 1960.
The Sanders Sisters, St. Boniface Parish in De Pere
| | |
| --- | --- |
| | |
| Sister Ruth | Sister M. Monica |
Mary (Sister Ruth) was the third of Louis and Teresa's six children. After graduating from St. Boniface School as an eighth grader it was her hope to join the Sisters in Bay Settlement. Her mother insisted she attend high school first before making such a big decision. With her parents' sacrifice and Mary's jobs after school, Saturdays and during the summer she was able to attend St. Joseph Academy in Green Bay. High school graduation was still not the right time to leave home as by then her mother was crippled with arthritis and her father only had part-time work. Mary stayed home another year to help support her family. Finally, Mary became Sister Ruth in 1941 and enjoyed many years as a primary teacher. In 1991 she returned to the Motherhouse suffering with dementia which she endured for 15 years, dying on July 24, 2006. Her funeral was the first held in the new Motherhouse on Nicolet Drive.
Mary's sister Ruth Margaret (Sister Mary Monica) was the youngest of the family. After she graduated from high school, she moved from De Pere to Milwaukee to work. She began attending morning Mass and as a 30-year-old discovered her love for the Blessed Sacrament. After visiting a few religious congregations, she found her home with the Benedictine Sisters of Perpetual Adoration in Clyde, Missouri. She worked in the vestry, laundry, kitchen, maintenance and altar bread departments and was a founding member of the congregation's monastery in Sand Springs, Oklahoma. She died on Nov. 19, 2007.
The Willems Sisters, St. Boniface Parish in De Pere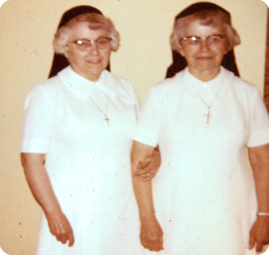 Sister Mildred, left, and Sister Marian
Henrietta (Sister Mildred) worked in the family store after eighth grade so her older brother Neil could attend St. Norbert College. She worked in the store until she was 21 and then was received by the Community in 1925 to begin her high school studies. Emma (Sister Marian) also worked in the family store after eighth grade and was received by the Community five years after her older sister. Sister Mildred served as a teacher and principal for 50 years while also as organist and choir director. Later she served as a school librarian and parish volunteer. She had a great sense of humor and told amusing stories about her time as a student and teacher.
Sister Marian was a teacher for 30 years before becoming the superior of the Motherhouse Community for six years. She then served in various missions until her health began to decline. She died in 1985. Her thoughtfulness, warm laugh, twinkling eyes and willingness to give a helping hand are well remembered. Sister Mildred outlived her younger sister, dying in 1999.