News footage in mid-August detailed the plight of tens of thousands of Afghans desperately fleeing their homeland as the Taliban recaptured control after 20 years. Within weeks, nearly 13,000 refugees arrived at Fort McCoy near Tomah, Wis. As with Hmong, Bosnian and Somali refugees from decades past, our Sisters compassionately responded.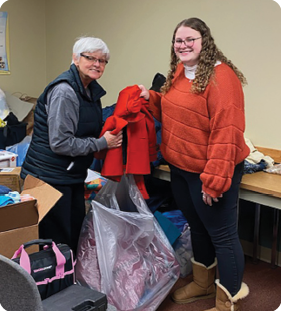 CLOTHING THE NAKED: Sister Laura Zelten, left, and UWGB student Renae Vanden Plas assist in sorting clothing donations at Catholic Charities of Green Bay.
'Whatever you did for the least of these, you did for me'
Trip to refugee camp was about living the Gospel and seeing people's resilience
by Sister Laura Zelten and Renae Vanden Plas
Our visit to Fort McCoy
Through a project in Renae Vanden Plas' non-profit management class at UW-Green Bay, we learned about the overwhelming needs among Afghan refugees at Fort McCoy near Tomah, Wis. Renae shadowed the staff at Catholic Charities of Green Bay where she learned how she and other students could help. From Nov. 12 to 14, Renae and Sister Laura Zelten, Catholic campus minister at UWGB, accompanied Catholic Charities' staff to Fort McCoy.
What we observed
We were overwhelmed to know that there were 13,000 people living in the barracks at Fort McCoy. This included families and single men and women. It was difficult to see how they were uprooted from everything they knew and arrived in the U.S. with only the clothes on their backs and flip-flops on their feet -- in November. Even so, their smiles were warm and beautiful. They were loving and protective of one another. The children were happy and strong and unafraid. They tried to speak English and their favorite phrase was "excuse me" for everything!
We worked with 92 children ages 1 to 14. Through the commotion we braided bracelets, painted with watercolors, and created things with play dough. The walls of the children's center were filled with their artwork. When language was a barrier and translators weren't available, hand gestures and head shaking got the message across.
There was a sewing center at Fort McCoy where women could choose two pieces of fabric to make their traditional dress. It amazed us how they could cut and sew without a pattern. They helped one another to finish within their 2.5- hour time slot. The finished product looked so professional and well done. Amazing!
The volunteers were untiring and generous. Donations were plentiful: toys for the children, fabric for the women, and warm coats for many. Catholic Charities of Green Bay and La Crosse led the way in welcoming our brothers and sisters.
Radical Hospitality
Serving our Afghan brothers and sisters left us wondering where they were going to settle and how they were going to enter our culture. This experience opened our eyes to all we have. We really live privileged lives. We wanted to do more to help the refugees transition to life here. But above all, the service trip changed our view of how we see the face of Christ in others. It was a time to live our baptismal call to love and welcome the stranger as Jesus instructs (Mt. 25:35-40). We will always remember the refugees in our prayers.