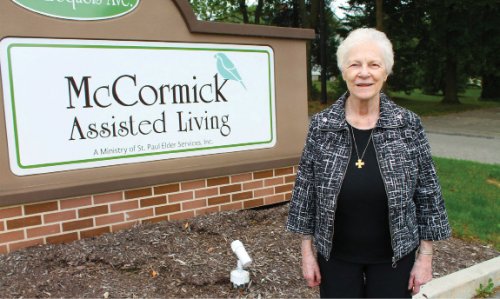 100 YEARS OF CARING: Sister Joanne Williams is one of 73 Sisters of St. Francis of the Holy Cross to have ministered at McCormick Assisted Living since its founding in 1921. Sister Joanne served at the McCormick for 35 years as a cook and housekeeper. (Renae Bauer photo)
Sisters helped make a home as its founders envisioned
by Sister Mary Kabat
Development Director
The McCormick Assisted Living, formerly called The McCormick Memorial Home, is celebrating 100 years of ministry of providing care for the elderly. The Bay Settlement Sisters ministered at this special place from its opening in 1921 until Sister Joanne Williams retired in 2010. The ministry is now under the corporate heading of St. Paul Elder Services, Inc. and is sponsored by the Franciscan Sisters of Christian Charity, Manitowoc.
The following excerpt is from A History of the Sisters of St. Francis of the Holy Cross by Sister Louise Hunt.
"The McCormick sisters, Amelia and Sarah, wanted to do something as a memorial for their brother, Michael. They decided to build a home for the aged that would provide a safe haven for the elderly in their declining years. They were anxious that it would be a home and not just another institution and that the older people would be residents and not wards. The home was put under the auspices of the Green Bay Diocese and Bishop Rhode asked the Bay Settlement Community to provide the staff. The Community decided to accept the Bishop's offer because the ministry seemed to embrace the Bay Settlement charism of compassionate service to God's people."
"Service was indeed the key word as Sisters Teresa Goggins, Delphina Kleuskens, Magdalene Thayer and Michael Jungwirth arrived to begin to prepare for the first residents. The Sisters found the place just as the workmen had left it. They stayed at St. Joseph's Orphanage while they worked endlessly to put the Home in order. They received their first resident April 23, 1921. During the many years that the Sisters staffed the McCormick Home almost any type of manual labor fell to their lot. Each year they planted a huge garden, and each year froze or canned hundreds of quarts of fruits and vegetables. Their greatest concern was always for the comfort and care of the elderly with whom they made their home and shared their life."
We asked a few Sisters to reminisce about their years at McCormick Assisted Living, originally founded as the McCormick Memorial Home for the Aged. The opportunity to serve people and live with the antics of a few pets are certainly cherished!
A love for nursing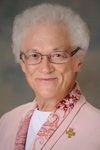 from Sister Michele Finger, 12 years
When Mother Ambrose was looking for Sisters interested in full-time ministry at the McCormick Home, I appreciated the opportunity to become involved in nursing. I wished to do that when I entered the Community; however, teachers were also needed. I knew the McCormick Home from helping in summers when Sisters there went to retreat at the Motherhouse. I attended NWTC in Green Bay to become a Licensed Practical Nurse. I felt blessed by both ministries, teaching young people for 14 years and serving at the McCormick Home for 12 years. I loved the years I lived and ministered there to the elderly men and women who made their home with us.
---
Runaway Mickey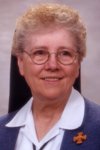 from Sister Joanne Kinjerski, 14 years
I served at the McCormick Home from 1982 until 1996. Healthcare was my first obligation, then house duties, plus whatever needed attention. Each morning we awakened the residents, knocking door to door. We served and cleaned up after each meal. Residents who were capable cared for their own needs with exceptions. When there was no longer a Sister organist, I led the music with the auto harp on Sundays.
As time went by and the Sisters were no longer residents, I took on night duties. It was harrowing at times when residents required emergency care or hospitalization to arrange for the rescue squad in a hurry.
When Sister Regina LeMere served at the McCormick Home she bought a puppy and named it Mickey McCormick. One day a resident left it out accidently. The faster Sister Regina ran after it, the faster Mickey ran. Hopeless, Sister Regina walked back to the Home. On arrival, Mickey was at her heels. Another time, at our evening Vespers as I strummed the auto harp Mickey walked over, sat down and gazed at the harp.
---
Gratitude for the memories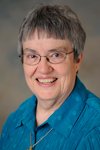 from Sister Nancy Langlois, 9 years
As I look back on my time as Administrator of the McCormick Home from 1984 to 1993, the feeling that stands out for me is GRATITUDE. Gratitude for all that our Sisters had done in their service to the residents through the years. Gratitude for the outstanding and dedicated staff of men and women I served with who went above and beyond, daily showing their love and respect for the people. Gratitude for the high school students who loved the people and were loved in return. Gratitude for the residents, faith-filled people who wanted to live life to the full, live life with purpose.
I was always conscious of the mission of the McCormick Home. Sarah and Amelia McCormick founded the home in their brother Michael's honor as a place where the elderly would be treated with respect and dignity and receive the best care.
Sister Joanne Kinjerski mentioned the dog, Mickey McCormick. In my years we had a cockatiel for the residents to enjoy and named it Amelia. It could not learn to say "Amelia" but called itself "Meli-bird." I taught it to say, "Nurse, nurse, let me out!" That brought many laughs.
I learned a lot over those years. My background had been in education with children. It called forth skills I didn't know I had. I was part of the planning and preparation for the construction of the wing for retired priests. I learned how to deal with the public, listen to opposing voices calmly and trust in God to allow the mission to live on.
---
First duty: Caring for residents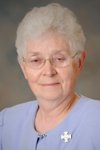 from Sister Gerald LuMaye, 15 years
I was assigned in 1955 to minister at the McCormick Memorial Home for the first time. I was a young Sister after my formation in the novitiate. It was overwhelming as I did not really know the other Sisters. There were 12 of us then, and I had never seen so many old people in one place or people with memory needs.
At first, I was a "watcher" and learned jobs I didn't know how to do including how to cut up chickens and use every part! It was hard work, but we worked together. On Monday, wash day, we got up at 3 am. We had a big garden and we canned and canned and canned. We gave the whole house a thorough cleaning twice a year, scrubbing and dusting on hands and knees.
The residents who were able liked having jobs too like helping with the dishes, folding sheets, or cultivating the garden. It gave a family spirit. We cared for the elderly who couldn't afford other care.
It wasn't all work. We made our own fun -- like the July 4th picnic in the grape arbor and inviting Sisters from other missions to celebrate Sister Michael Jungwirth's feast day. We laughed a lot - so many funny things happened over the years.
I served at the McCormick Home five different times in various areas from kitchen to resident care to baking. Things changed over the years as Sisters received more education to meet the needs and state certification was achieved, but always my and our focus was on care of the residents.
---
Making a home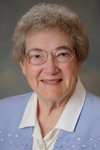 from Sister Clare Simon, 14 years
I served at the McCormick Home from 1966 to 1980, and it was my most enjoyable mission. We all worked together, helped and enjoyed each other. We tried to create a "home" for the elderly people. There was lots of joking, teasing and laughter – from Sisters, staff and residents. The lay staff was outstanding in serving the residents. They too enjoyed each other and stayed in contact through the years. We also had good chaplains who took time to visit with the residents and even sit to play a game of cards. It was a blessing to have daily Mass.
Some of the residents were able and wanted to help us so they would work with us, dusting or doing dishes, just like being at home. It was so nice to get to know their families, often staying in touch for years after. They were so grateful for the care we gave their family member.
We made holidays very special for the residents. For example, on Halloween all the Sisters would dress up in costume and parade through the four floors for the residents to enjoy.
While I was administrator, Wisconsin passed a law that all care facility administrators had to be certified. I attended classes at UW-Green Bay with other local administrators and took state boards.
Serving at the McCormick Home was a real gift!