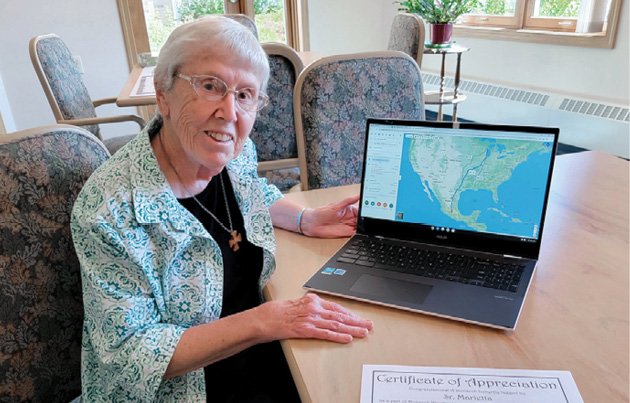 CITIZEN SCIENTIST: Since 2010, Sister Marietta Samz has participated in a project that tracks the migration of Monarch butterflies. Monarchs are pollinators and play an important role in our ecosystem. (Renae Bauer photo)
by Renae Bauer
What was once a classroom lesson on the life cycle of the Monarch butterfly has become a volunteer commitment for Sister Marietta Samz.
A lifelong teacher, Sister Marietta has been tagging Monarch butterflies for 12 years as part of the Monarch Watch project at the University of Kansas. Each year, the project sends her coded tags that she places on 80 to 100 Monarchs as the fall migration to Mexico begins. The scientists at Monarch Watch track the butterflies' North American migration, evaluate habitat, monitor weather patterns and so on.
"It takes the Monarchs about two months to get to Mexico," says Sister. "Then they roost in native trees like pines until March when they mate. It's their offspring that start the journey back."
Of the 420 butterflies she's tagged since 2010, this year is the first time Sister Marietta has been notified of a butterfly completing the journey. In May, she received a certificate from Monarch Watch stating that a butterfly she tagged on Sept. 5, 2021, flew 2,275 miles to a reserve in Cerro Pelon, Mexico, about 100 miles west of Mexico City. See picture of map on page 1.
A common cause
Thanks to the Internet, Sister Marietta learned two things about Cerro Pelon: "One, I felt I was working with somebody in another culture to do this, to save the environment. We have the same values and the butterfly migration is kind of a bridge between us. Two, I learned that the reserve is helping people by employing them," thus, luring workers away from the illegal logging industry which is destroying the Monarch's winter habitat.
The loss of winter habitat along with the massive loss of milkweed caused by development, logging and the use of herbicides and insecticides are contributing to the Monarch's decline. The one and only plant on which Monarchs lay their eggs is milkweed.
"I'd like to encourage people to do something to help," not only the Monarchs but the planet as a whole, says Sister. For Monarchs, planting milkweed and other flowers high in nectar like goldenrod and wild asters will help.
"You don't have to have a big collection of plants to do it, small and little is OK," she adds. "This can be a fun thing for families to do, and it's a way to instill reverence in creation and a good way to meet God."
Monarch Waystation
If you have 100 square feet of gardening space or more, consider creating a Monarch Waystation. To learn more or see where registered waystations are located, visit https://monarchwatch.org/waystations/
If Monarchs aren't your thing then rest assured there are other ways to get involved in conservation.
Citizen scientist
"Go on YouTube and search for 'citizen scientist,'" says Sister. "If you know that your child is interested in hummingbirds or the stars, look it up and see."
A citizen scientist is a volunteer who assists professional scientists with collecting and/or analyzing data. For example, citizen scientists were instrumental in identifying galaxies for the Sloan Digital Sky Survey. Astronomers expected the review of more than 1 million pictures to take years but, with the help of volunteers, the project was completed in one year.
In other words, no effort is too small. "What I do is a little part of what the scientists are doing to track and study the butterflies," says Sister. "I tell people that I tag butterflies to raise awareness of the devastation of global warming. Plus, it's interesting."