Animator project focuses on living the principles of the encyclical and sharing them with others
by Sister Sally Ann Brickner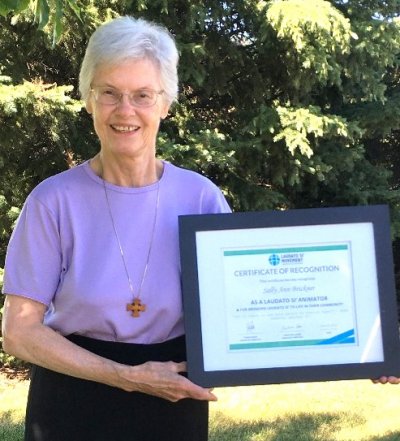 "Laudato Si,' mi' Signore." "Praise be to you, my Lord." With these poetic words, Pope Francis opened his 2015 encyclical "On Care for Our Common Home". Listen to the "Cry of the Earth and the Cry of the Poor," Pope Francis wrote with great urgency. Soon after our Holy Father released his letter to the entire world, our Sisters and Associates united with others in the Catholic Church to study and dialogue about its contents. As Franciscans, who were already committed to caring for God's creation, the message touched us in a special way.
During the seven years since Pope Francis released his encyclical, the Vatican continuously called all Catholics to respond to the deepening climate crisis. A global Laudato Si' Movement took shape with training programs provided for individuals to learn how to animate others in creation care. I had been working on environmental issues for many years, and learned from a friend about Laudato Si' Animators. Intrigued, I investigated the online course that was being offered in Spring of 2022, and signed up for the free program.
What a gift it was for me! I delved once again into Pope Francis' encyclical, listened to speakers, wrote reflections, and interacted with Catholics from all walks of life in many countries. At the end of the course each of us had to submit a capstone project. I shared the retreat booklet on Ecological Conversion that Sister Marilyn Herr and I had prepared for our Community's General Chapter in May. In June I became a Laudato Si' Animator, joining nearly 12,000 like-minded persons around the globe!
Eco-conversion is a life-long process that begins with and is sustained through prayer. Animators are eligible to enroll in a five-week course on contemplation, which I did immediately following my training. I found it to be very enriching, a way to deepen my spiritual practices as the basis of care for Mother Earth. Furthermore, we are able to join a weekly contemplative prayer session with other Animators, using a practice from the free Laudato Si' Prayer Book.
Laudato Si' Animators receive much support to enable them to bring Laudato Si' to life in their families, communities, parishes, or dioceses. They have people they can turn to for expertise, and are enriched through the reports from other Animators. Some have initiated Laudato Si' Circles in their parishes, held prayer vigils, brought in speakers, led youth in planting trees, created community gardens, and so many other creative activities. Since completing my own training, I met with a parish staff about Laudato Si' and also contributed a contemplative practice for the Sustainability Committee to use during the August Silence and Sunset. Becoming a Laudato Si' Animator motivates me to do something each and every day to care for our Sister Mother Earth!
For more information visit https://laudatosimovement.org/