Ice skating under the stars has one Sister thinking about the Feast of the Epiphany
by Sister Elise Cholewinski
Ice skating was one of my favorite sports. I especially remember a time long ago, when I lived in Door County, and another Sister and I would skate at night on a rink behind the high school next door to us. I loved breathing in the cold, refreshing air and glancing up at the star-studded sky as we glided around the rink. It was truly an exhilarating, energizing experience, giving me a sense of total freedom. The stars seemed to light up the earth as bright as the noonday sun. They motivated me to move faster and faster, to coast through the darkness with purpose, joyful and uninhibited. The smooth ice beneath my skates enabled me to glide without interruption, as if I were pursuing an imagined dream.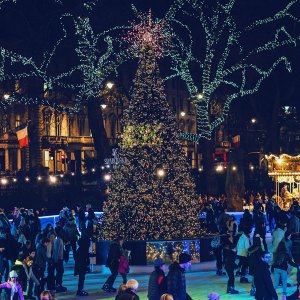 Do we skate through life, happily following a dream, or do we trudge through life, letting every chip in the ice be an obstacle? Are we even aware of the star in our spiritual sky, radiating its beauty and beckoning us forward? Do we desire to move on, challenged but at peace, afraid but excited?
Some wise men from the East saw a star. Others either denied its magnificence or didn't bother to look. These men were overjoyed by its appearance and journeyed onward to find its fulfillment. Who would have believed what comprised the culmination of their trip! A Baby, a manger, the hard wall of a cave, the smell of manure, the chill and the dampness. They laid their gifts before Him and felt a burst of Light within themselves. Upon leaving the sacred space, they decidedly turned in a new direction. They were forever changed. They "skated" home in freedom.