Sister Marie Goretti has a love for people of all ages & abilities
by Renae Bauer
published Summer 2021
It's as if it happened yesterday.
Sister Marie Goretti Marcelle remembers the certainty she felt in first grade. Patsy, as she was known then, wanted to be a teacher. As she tells it, she watched – observed -- studied -- her teachers in first through eighth grades. But there was a problem. Even though she wanted to be a teacher, Patsy felt called by God to become a Sister. "Which one should I be?" she asked herself.
Fortunately, during summer vacation Bible school at her parish, St. Hubert in Sugar Bush, Patsy met Sister Ursula Petrosky, one of the Sisters from St. Kilian School in New Franken. Sister Ursula was a Sister of St. Francis of the Holy Cross and a teacher. Instantly, Patsy knew her dilemma was solved. She entered the Community in 1952, received the name Sister Marie Goretti, and became a teacher.
For more than 66 years Sister Marie Goretti has been sharing the good news of Jesus with people from all walks of life. From the 1950s to the 1980s, she taught grades 1, 2 and 3 at Catholic schools and then taught each summer in the same vacation Bible school outreach she had attended. Then in the mid-1990s, Sister transitioned to a learning specialist role for the Kaukauna Catholic School System, which she served in for 12 years. "I was able to help many children who struggled acquire the skills they lacked and build self-confidence as well as challenge those who excelled," she says.
The joy of serving elders
Sister also enjoys challenging and engaging with adults. For many years she has volunteered at Parkside Care Center in Little Chute and St. Paul Elder Services in Kaukauna. She recalls with great joy the time in which she started an impromptu kick ball game with some residents at Parkside. It was after praying the rosary when she invited them to stay, gather in a circle and see who could lift their arms the highest. Then she asked who could kick their legs the highest. Then she had an idea. She grabbed a couple of balls and asked the residents to kick the balls to one another. The residents had such a good time that many of them played until lunchtime and a few declined visitors so they could keep playing. Like the residents, the visitors were happy to see their loved ones having such a good time! Sister says she hopes she can resume this ministry soon.
At St. Paul's, Sister Marie Goretti ministers as a volunteer and a part-time staff person. She began as a volunteer some time around 2008 when, after visiting parishioners living at St. Paul's, she was asked if she would volunteer to bring communion to residents and be a companion for the dying. She gladly accepted.
Her part-time ministry position is in the Spiritual Care Department. Since 2014, Sister Marie Goretti has been visiting new residents in the rehabilitation facility and nursing home, leading Bible studies, helping with anointings of the sick, proclaiming the readings and prayers at daily Mass, and distributing communion. She says her favorite thing to do for people who are near the end of this life is bless them and, if possible, bring communion. "I tell them they are one step closer to heaven," says Sister.
Serving people with disabilities
As easily as Sister connects with older people, she is equally relatable to people with developmental disabilities. As a volunteer with the Valley Area Special Needs Religion Education program, she helps teach a faith-centered theme each year to students 8 years and older. One theme that stands out is the year she taught about the Church's liturgical year. Just as there is a calendar year that begins in January and a school year that begins in September, there is a liturgical year that begins with Advent, she explained to the students. When she asked for some signs or symbols of Advent one student answered, "decorating a tree." From there, she guided the students in a discussion about how the wood of the Christmas tree can remind them – and us -- of the wood of Jesus' crib and Jesus' cross. She masterfully connected a decorated Christmas tree to the birth and Paschal Mystery of Jesus Christ.
When asked how she's able to teach children and adults – with and without special needs -- she says it's easy. "We all have a kid in us," she replies. "We all like to share our lives and have a little fun along the way." How right she is.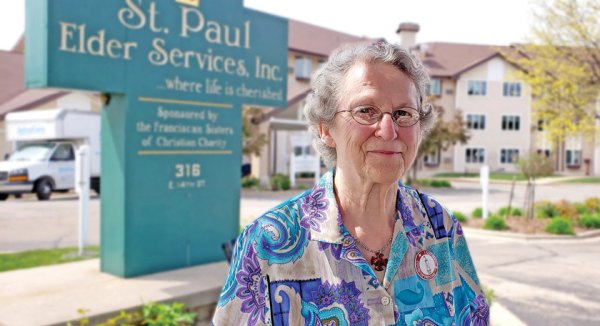 ANSWERING THE CALL: Sister Marie Goretti Marcelle felt called to religious life and teaching, and found the perfect blend as a Sister of St. Francis of the Holy Cross. (Renae Bauer photo)
Stay in touch -- This story originally appeared in the Sisters' newsletter. Subscribe to our FREE printed newsletter (issued five times a year) and our FREE e-spiritual reflections (weekly). We enjoy hearing from you so visit our "Send a Greeting to Sister" page and say hello. Thank you and God bless!