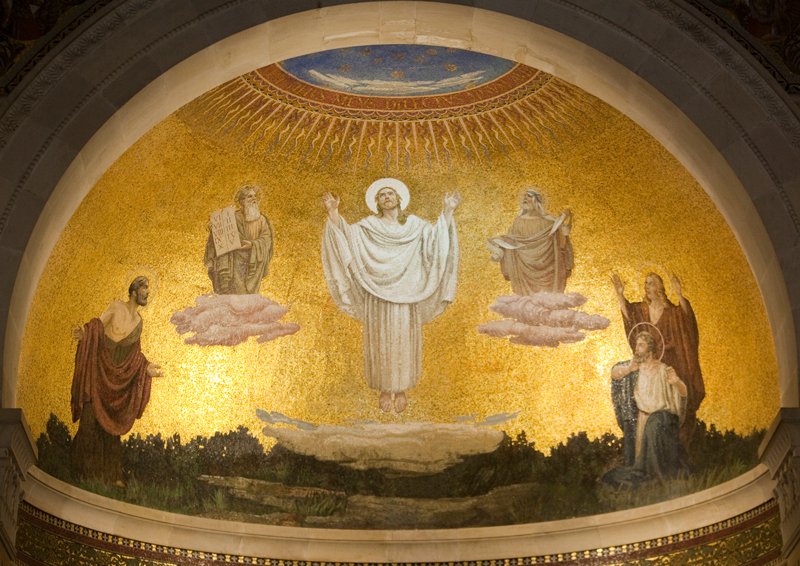 image: mosaic art in the Franciscan Church of the Transfiguration on Mount Tabor in Israel, by Israel Tourism, CC BY-SA
Second online session will mark the Feast of the Transfiguration of the Lord
"He was transfigured before them; his face shone like the sun." (Mt 17:2)
Aug. 6 is the Feast of the Transfiguration of the Lord, a moment when Jesus calls Peter, James and John to join him atop Mount Tabor. To describe the Lord's transfiguration is beyond mortal words but we do come away with two learnings: one, God proclaims Jesus as his Son; two, Jesus makes clear that his glory and suffering are intertwined.
Through an online format, we'll bring prayer, a presentation, quiet time and closing prayer (pre-recorded) to you in the comfort of your favorite spot. An optional social will follow.
Thursday, Aug. 6
6:30 pm -- Welcome and opening prayer with Associate Patti Hovde
6:35 pm -- "Feast of the Transfiguration" presentation with Associate Mary Zaborski
6:45 pm -- Quiet time. We'll provide 5 to 10 minutes of prayerful music and pictures of our grounds -- wildlife and flowers that you would normally see during a traditional "Silence & Sunset" session at St. Francis Convent.
6:55 pm -- Closing prayer
To follow -- OPTIONAL: Normally, we host a social at the end of "Silence & Sunset" and we'll do the same for our virtual event. Stick around for some good conversation!
Info and registration
Internet: Be sure you have a strong internet or wi-fi connection.
Questions? Contact Sister Laura Zelten at vocations (at) gbfranciscans (dot) org. (Link has been disabled to prevent spam.)
Registration: Please register below by Aug. 3 so we can send details about the event and pertinent links to you. This will be our second and final virtual event of the summer.